My latest clock commission, a four Z560M tube clock with aluminum bezels in a wenge case, with neon lamps for colon separators and illuminated mode/set buttons.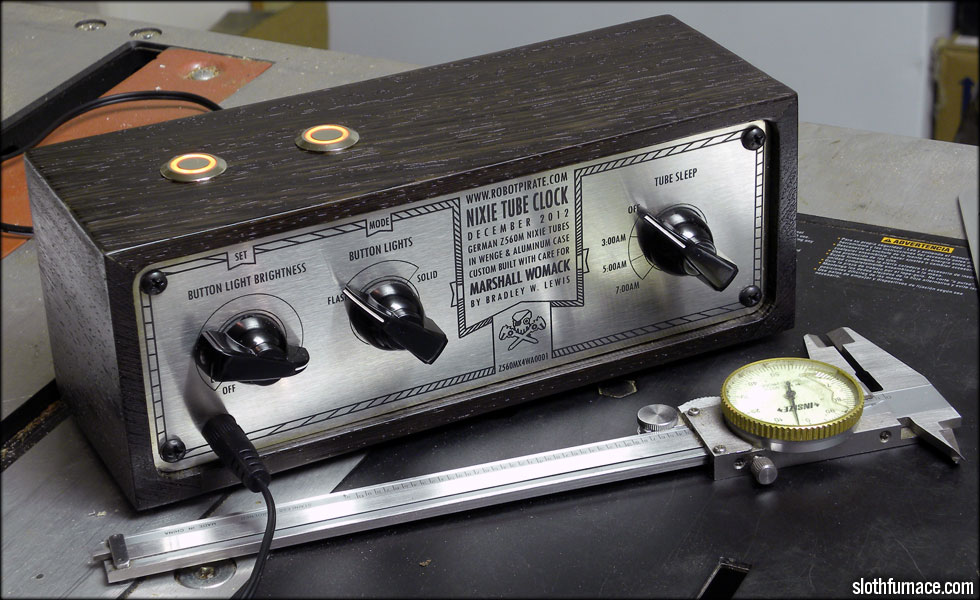 I also included a personalized custom designed laser etched stainless steel back control plate.
IN-19 Alphabetical tubes, for my daughter's nightlight.
Product shot of the ArduiNIX Nixie tube driver shield for Arduino and the 6X IN-17 Tube board.
This is my first Nixie Tube clock, and one of my first real challenging builds. A Nixie Tube is a cold-war era vacuum tube like thing, filled with a neon gas, with elements shaped like numbers or letters stacked inside, with wires leading through the glass from the characters to the outside. When approx. 180 volts of DC current is applied to the anode, and any cathode is grounded out, the characters light up with a beautifully retro neon glow. Lots of people make clocks and things out of them. I saw them as having huge art potential.
In 2007, I built a matching clock for a customer. I made both cases out of Black Walnut, machined the aluminum bezels for the German Z560M tubes, and hand assembled and tested the new clock. The new one was an improvement over the original in terms of how the case went together, but I still have a soft spot for #1. A completely thorough build log of these clocks can be found at my main site, nonentity.com.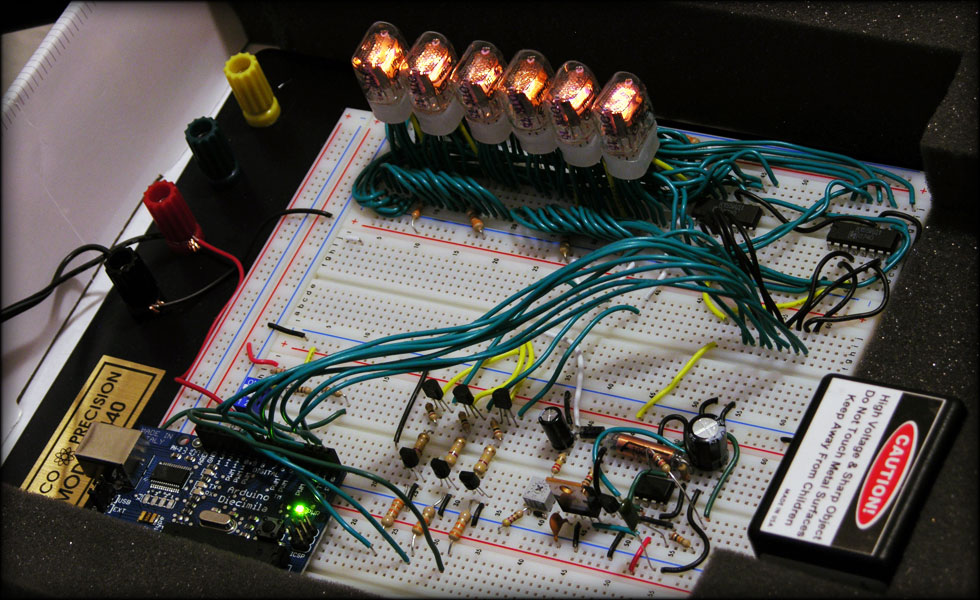 While designing and building this clock over the course of a couple of years, my friend Jeremy and I decided to prototype and build a Nixie driver/multiplexer/power supply shield kit for Arduino, I call it the ArduiNIX. More build goodness and the actual kit available here. This pic is of the first prototype ArduiNIX, using an Arduino Diecimila to control the 180 volts needed to drive the six Russian IN-17 Nixie tubes.
Here it is completed, running six IN-17s and four INS-1 neon dots for colons.
And here's the add-on board for 4x IN-17s.