To install a switch under the red button, I snagged a tiny momentary through hole mount switch and folded the leads out, soldered my wires to that and fed it into the shroud.
Heat shrunk and installed for fit, I'll dab some hot glue over the exposed lead and that will also seat the switch and keep it from moving around.
And the switch wires run the length of the TCSS graflex adapter channel and into the switch section. I had to mill out a little ramp in the MHS Ribbed piece to allow the wires to transition from section to section without crimping.
And now that I have all the wiring done I want to do to this saber, it's time to finish out a few details. I placed some short pin contacts in to the holes in the adapter, and modded one of the original graflex connector tabs to fit the shallower hole of the TCSS adapter. I also put a short setscrew in between the red button and emitter to anchor the blade.
This saber is probably more fun than any of the rest I've made. It's been a great project to put together, and lots of fun once it's finished.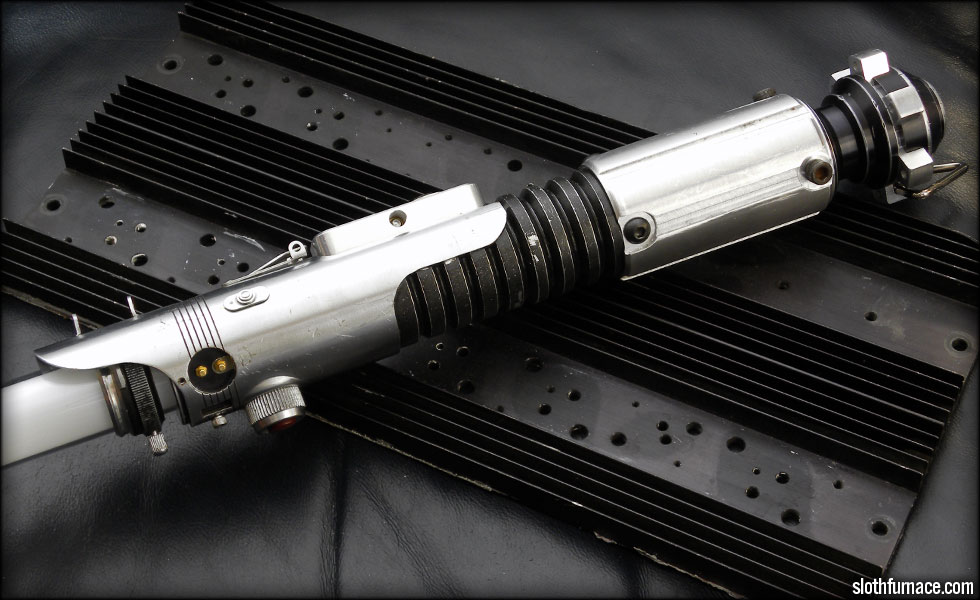 The giant heatsink beneath it will be the basis of my display mount when I get 'round to it.
Here's a vid of all the sound effects and whatnot in action. Thanks for looking!
After recieving the Crystal Focus V6.1 from Erv at Plecter Labs, I realized I should definitely toss it into Derelict. That meant I needed to go through Derelict and refine a few things. I machined this soundboard tray from a scrap piece of Delrin...
The CF snaps in, and the recharge port and wires also fit underneath.
I also machined a thumbslot to ease card access when the Acerocket pommel is off....
And each end of the tray interfaces with each part. The long speaker wires plug in, and allow for removal of the pommel for MicroSD card access.
The outer casing will fit over this somewhat like that. I might still machine some sound paths through the delrin tray, and possibly some more wiring paths
With an AAAA Amber 10W LedEngin,
R.I.C.E. Port below the soundboard, mounted flush against the delrin wall.